Burning Man 2007
A "yellow bike" program is something that townships do to provide bicycles to their citizens. The bikes are provided by the town and painted a distinctive color. People can use them to get around town and are supposed to leave them on public racks when they are done.
If the saturation of bicycles is high enough, theft goes down because the bike has essentially no value. Towns like Austin, Texas that have tried these programs have found a little attrition (usually kids throwing them in the river) but the real challenge is the long-term maintenance of the fleet.
At
Burning Man 2006
the bicycle crew had managed to paint and assemble about 200 bikes for the citizens of Black Rock City to use. The organization's eventual goal is a saturation of 10 per cent. In theory, you only use a bike far less than ten percent of the day, so that many bikes should be plenty.
For the 2007 event, an attendee wanted to fund the program so that he himself could take advantage of it. He purchased 1000 Huffy bicycles for the festival, which we painted a distinct green and assembled. We deployed them on the event grounds and recovered them afterwards.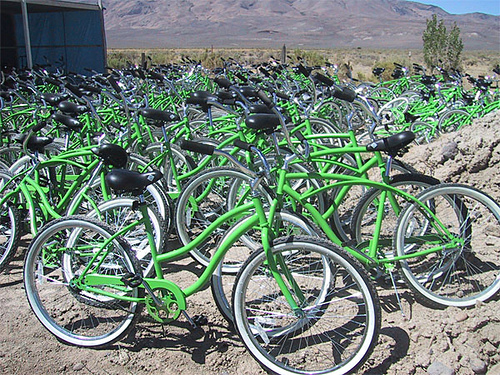 This is a Leave No Trace event, so we also recovered approximately 1500 bicycles that were left on-site. These went again to the Paiute tribe and the Kiwanis of Reno.
As our program grows, so has our maintenance requirement. At the 2008 event I will manage a crew for maintaining the existing, assembled fleet.
Labels: bikes, festival, globalactivism